National party vs State party
Types of parties in india
In India, political parties can be either national party or state party or just registered party.
Registered Parties are upgraded as recognised National Party or State Party by the ECI if they meet the relevant criteria after a lok sabha or State legislative assembly election.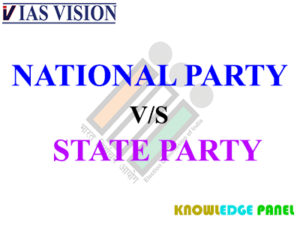 A political party would be considered a national party if it fulfils any of the three criterion listed below,
It is recognised in four or more states ( recognized would mean having permanent symbol)
If candidates of the party under consideration have together polled at least 6% of total valid votes in any four or more states in the last,  lok sabha or assembly elections, and has at least four mps in the last lok sabha polls.
If it has won at least 2% (11)of the total seats(543) in the lok sabha from not less than three different states.
National party privileges
BENEFITS OF BEING A NATIONAL PARTY with change in status of political party:
A reserved symbol - A national party can have a reserved symbol, that cannot be used by any other party. This exclusive reserved symbol can be used for all elections held throughout the country.
Allowedmore airtime on radio and television - The national party's candidates are also allowed more airtime on radio and television as opposed to candidates of a state party. (Now this could mean, AAP leaders would have as much airtime for interaction with supporters as much as BJP enjoys)
A national party can field candidates in any statethroughout the country to contest any upcoming election on same party symbol.
Government allotted land - The national party also gets government allotted land to build its headquarters
40 star campaigners whose expenses will not be counted as candidate expenditure  - The priviledge of 40 star campaigners are allowed to a national party. This means ahead of an election, a national party can assign a total of 40 star campaigner, whose expenses will not be included  in the party's overall costs of running an election campaign.
Nomination for election needs only one proposer- National parties need to have just one proposer to submit a nomination. Further national parties are also given two free electoral rolls during roll revision. They also get one free electoral roll for each candidate during general elections.
National parties previously
How many national parties are there in India?
After the latest revision, India has five national parties. Nationalist Congress Party,  Trinamool Congress, and Communist Party of India (CPI) lost their national party status, while  Aam Admi Party got elevated to the league
India before the latest revision in april, 2023 had seven national parties-
Trinamool Congress (TMC)
Bharatiya Janta Party (BJP)
Indian National Congress (INC)
Nationalist Congress Party (NCP)
Communist Party of India (CPI)
Bahujan Samaj Party (BSP)
CPI (Marxist)