IAS VISION WAY - Simple and effective
IAS ONLINE COACHING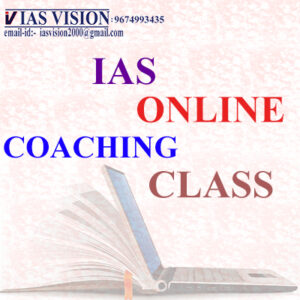 Attend live classes by India's leading IAS trainers
Choose from among weekend or weekday slot as per your convenience & still get a back-up plan.
Solve doubts through various modes or in consultation with faculty members.
Round the year tests to test your preparedness for the CSE at every stage prelims, mains & personality test.
All-India test - difficulty based ranking on tests to evaluate and improve your performance.
Includes prelims, mains and Interview. test series, assignments & writing practice part of the programme.
UPSC CIVIL SERVICE ONLINE CLASSES
2 attempt support - Attempts need to be consecutive to benefit from previous years preparation.
PERSONALIZED SUPPORT
personalised study plan based on an individuals personal strengths and weaknesses. Undergoes evaluation every quarter.
Multiple mentors to plan & monitor your progress, if needed face to face interaction arranged.
Doubt resolution by subject experts online/offline, even suggesting relevant avenues & sources to overcome problems.
Tests tailored to check individual progress as against one size fits all approach. Tests are arranged based on individual comprehending capability as well as personally chosen and approved plan.
Test series is available for a much extended period for deserving candidates.
UPSC CIVIL SERVICE ONLINE CLASSES
Interactive classroom approach to teaching & discussions to condition students to achieve self-confidence towards voicing their ideas and opinions.
Developing clarity of expression & thought to overcome confused approach in thought process and writing.
Preparing beforehand and create a mind map for possible questions one can encounter based on career & background.
Extensive interview guidance from a highly experienced panel
Mock interviews conducted with the help of retired/serving bureaucrats to understand the interview psychology based on a particular career pattern
Personality development program focusing on your training for IAS interviews.