What are Fixed dose combination drugs?
Fixed dose combination drugs are those which contain a combination of two or more active pharmaceutical ingredients (APIs) in a fixed ratio.
Fixed Dose Combinations (FDCs) containing drugs combined together for the first time are treated as 'New Drugs'. These, therefore, require permission from the Drugs Controller General (India) [DCG(I)] before these could be licensed by the State Licensing Authorities (SLAs) for manufacture for sale in the country. Many SLAs had, despite not having the authority to grant licences for new FDCs, continued to grant licences without approval of the DCG(I). In order to address this issue, the Ministry of Health and Family Welfare issued statutory directions to the State Governments to instruct their respective drugs licensing authorities to refrain from granting such licenses. However, the practice was still not discontinued by some of the SLAs.
What are the dangers connected to Fixed dose combination drugs?
FDCs pose risk to patients and communities, such as a combination of two antibacterials, poses danger of developing resistance that would affect the entire population.
some State Licensing Authorities had issued manufacturing licences for a very large number of FDCs without prior clearance from Central Drugs Standard Control Organisation(CDSCO) and this had resulted in the availability of many FDCs in the market which have not been tested for efficacy and safety.
When was the previous ban imposed?
In 2016, the government had announced the ban on the manufacture, sale and distribution of 344 drug combinations after an expert panel, set up at the behest of the Supreme Court had stated they were being sold to patients without scientific data and the order was challenged by the manufacturers in court. The current banned 14 FDCs are also part of those 344 drug combinations.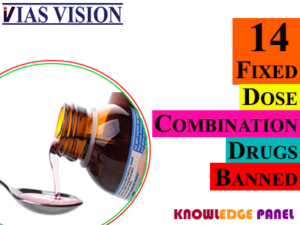 What is Central Drugs Standard Control Organisation(CDSCO)?
The Central Drugs Standard Control Organisation (CDSCO) is India's national regulatory body for cosmetics, pharmaceuticals and medical devices. The Indian government has announced its plan to bring all medical devices, including implants and contraceptives under a review of the Central Drugs and Standard Control Organisation (CDSCO).
Within the CDSCO, the Drug Controller General of India (DCGI) regulates pharmaceutical and medical devices and is positioning within the Ministry of Health and Family Welfare.