upcoming batches for UPSC CIVIL SERVICE 2024 aspirants
Classroom coaching at IAS VISION KOLKATA:
UPSC CIVIL SERVICE 2024 - STARTS ON
WEEKDAY  -    21st  March, 2023  &
WEEKEND  -    19th  March, 2023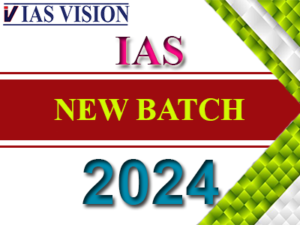 upcoming batches for upsc civil service
Programme & schedule of classes(compulsory papers i.e. Preliminary exam papers, GENERAL STUDIES PAPER-1 & Civil Service aptitude test & GS-1, GS-II, GS-III, GS-IV & ESSAY) :
weekday classes - 4 days a week classes for weekday students over a period of 12 months (students will attend  a minimum of 900 hour class before prelims 2024).
Weekend classes -2 days a week classes for weekend students over a period of 14 months ( About 800 hour classes available). Weekend students can attend weekday classes with prior approval. All government holidays are class days weekend students.
Assignment( to check your grasp of subject taught in class), test series( to help you study in a disciplined way), study materials( to help you reduce wasting effort searching for relevant content), all current affair materials( to keep you abreast of things happening near and far) are part of the programme & included in the fees quoted.
Personal interaction is available with prior permission.
Classroom coaching remains open for all students for 2 consecutive attempts.
All the above discussion does not in anyway include any issue connected to teaching of optional.
Admission to optionals is treated as a separate admission & aspirants who have taken coaching.
Every class is compulsorily followed by a class test.
At least 200 class tests, 50 section/module tests & 500 questions will be part of mains writing practice sessions, along with evaluation.
30 test a year All india test series, prelims & tests
Library facility available.
Can migrate from weekend to weekday & vice versa.
Repeat classes allowed with another following batch.