DEFENCE EXPORTS FROM INDIA
India among top 25 countries that export defence products
India's defence exports jumped Tenfold to ₹15,920 Cr in six years to reach all-time high;
India has achieved an all-time high in defence exports, reaching ₹15,920 crore in the financial year 2022-2023.
In the previous years the country exported military hardware worth ₹8,434 crore in 2020-21, ₹9,115 crore in 2019-20, and ₹10,745 crore in 2018-19.The amount in 2017-18 was ₹4,682 crore and ₹1,521 crore in 2016-17. Singh also announced that the government has set a target of manufacturing defence hardware worth ₹1,75,000 crore and taking defence exports to ₹35,000 crore by 2024-25.
India's track record as an arms exporter has been modest due to export restrictions on the manufacturing organizations.
After years of delay india allowed entry of private sector an entry into this sector, which had always relied on imports & had a culture of kickbacks.
Post 2017, about 50 Indian companies in the private sector have contributed to defence exports. Some of the major export destinations for defence products have been Italy, Maldives, Sri Lanka, Russia, France, Nepal, Mauritius, Sri Lanka, Israel, Egypt, UAE, Bhutan, Ethiopia, Saudi Arabia, Philippines, Poland, Spain and Chile etc. The major defence items being exported are Personal Protective items, Offshore Patrol Vessels, ALH Helicopter, SU Avionics, Bharati Radio, Coastal Surveillance Systems, Kavach MoD II Launcher and FCS, Spares for Radar, Electronic System and Light Engineering Mechanical Parts etc.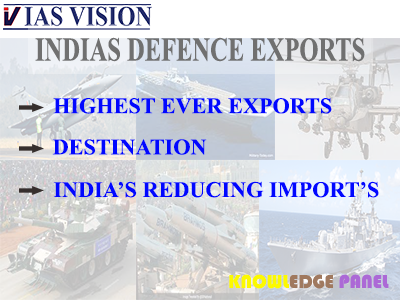 DEFENCE SECTOR SIZE
INDIAN DEFENCE STATISTICS
An overview of Indian defence trade, needs, expenses & size:
Defence industry sector of Indiais a strategically important sector in India.
India has one of the world's largest military forces with a strength of over 14.4 lakh(1.44 million) active personnel. It has the world's largest volunteer military of over 51 lakh (5.1 million) personnel.
The total budget sanctioned for the Indian military for the financial year 2023-24 is ₹92 lakhcrore (US$75 billion).
It has the third largest annual defence budget globally behind USA (US$732 b) and China (US$261 b).
INDIA DEFENCE IMPORTS
India remains biggest arms importer between 2018-22 despite drop in overall imports
It is the second largest defence importer behind Saudi Arabia making up 9.2% of global arms import.
Russia's share of total Indian arms imports fell from 64% to 45% during 2013–17 and 2018–22.
India has a domestic defence industry of which 80% is government owned. The public sector includes DRDOand its 50 labs, 4 defence shipyards, 12 defence PSUs. India has a new defence procurement, acquisition and manufacturing policy to reduce imports and enhance domestic manufacturing.
India's military–industrial complex has had little success and only recently private sector was allowed to enter the defence production.
Make in india initiatives, post- 2017 has pushed for indigenization of indias defence needs thereby reducing corruption & increasing indian defence trade.
India remained the world's largest arms importer for the five-year period between 2018-22 even though its arms imports dropped by 11% between 2013–17 and 2018–22, according to the Swedish Think Tank Stockholm International Peace Research Institute (SIPRI). Russia was the largest supplier of arms to India in both 2013–17 and 2018–22, but its share of total Indian arms imports fell from 64% to 45% while France emerged as the second largest supplier between 2018-22.
DEFENCE PRODUCTION AND EXPORT PROMOTION POLICY
The Government has taken several policy initiatives in the past few years and brought in reforms to encourage indigenous design, development and manufacture of defence equipment in the country and to minimize the defence import by the Defence Public Sector Undertakings, thereby ensuring delivery of indigenous modern defence hardware to Indian Armed Forces. These initiatives, inter-alia, include,
priority to procurement of capital items from domestic sources under Defence Acquisition Procedure (DAP)-2020;
Announcement of 18 major defence platforms for industry led design and developments;
Notification of  'Positive Indigenisation List' of total 2851 items  of Defence Public Sector Undertakings(DPSUs), for which there would be an embargo on the import beyond the timelines indicated against them; Implementation of  Public Procurement (Preference to Make in India) Order 2017;
Launch of an indigenization portal namely SRIJAN to facilitate indigenisation by Indian Industry including MSMEs; Reforms in Offset policy with thrust on attracting investment and Transfer of Technology for Defence manufacturing by assigning higher multipliers; and Establishment of two Defence Industrial Corridors, one each in Uttar Pradesh and Tamil Nadu.
A Draft Defence Production and Export Promotion Policy was placed in Public Domain. Various policy measures have been adopted by the Government to ease the approval/certifications for Indian Industries for defence production.
Defence Products list requiring Industrial Licenses has been rationalised and manufacture of most of parts or components does not require Industrial License.
The initial validity period of the Industrial License granted under the Industries (Development & Regulation)- I(D&R) Act has been increased from 03 years to 15 years with a provision to further extend it by 03 years on case –to-case basis.
A new online portal has been developed for facilitating filing of online applications for Industrial Licence under Industries (Development & Regulation)-IDR Act 1951/Arms Act 1959 with effect from 16.10.2018. Further, Government has also launched a scheme for awarding self-certification status to DPSUs and Private Industry wherein these have been delegated the responsibility of certifying the quality of products.