ESSAY – THE APPROACH AND THE PLAN –
What UPSC expects – upsc notification has this to say"Candidates may be required to write essays on multiple topics. They will be expected to keep closely to the subject of the essay,to arrange their ideas in an orderly fashion, and to write concisely. Credit will be given for effective and exact expression."
YOU WILL HAVE TO WRITE TWO ESSAYS, EACH WITH A WORD COUNT OF 1000 – 1200. ONE TOPIC CAN BE SELECTED FROM A CHOICE OF FOUR TOPICS. THE ESSAY PAPER IS FOR A TOTAL OF 250 MARKS WITH ONE ESSAY FOR 125 MARKS.
Examiners will pay special attention to the candidate's grasp of his/her material, its relevance to the subject chosen and to his/her ability to think constructively and to present his/her ideas concisely, logically and effectively.
What to gather from previous years papers
The approach to a good essay – WELL BEGUN IS HALF DONE
Make a framework a. try to recall everything that you can remember / want to say about the B. then give those topics, order of  preference
Our advice would be to use simple language.
Differentiate between an essay and a GS answer - The idea of using ornamental language to showcase your English vocabulary may backfire at times. But, don't make your essay sound like a General Studies answer i.e. it should be logic heavy( which essay should be) as compared to content heavy ( GS TOPICS)
Introduction must generate curiosity or create a plot, that would be great. Essay introduction can be:

an incident or story or a character;
a real life anecdote;
Start with a quote; or
definition of the words in the question
Essay should follow a logical continuation throughout and not seem something progressing in fits and starts. The essay should be organized in well-structured paragraphs coherent with the flow of the essay.
Essay should have 4 distinct parts Introduction 2. Body  3. Critical analysis 4. Conclusion.
Substantiating your arguments
Every paragraph must have an argument or an idea and a reasoning to back that argument. Put forward a real-life example, a statistic, an authentic research or organizational paper published etc.
For example, if you are arguing that elections are is an expensive, you should be able to given an example or a statistic or independent survey report as the basis.
Statistics, examples, research reports, judgements and constitutional provisions are crucial and they lend your arguments enough weight.
Concluding an Essay – brief, visionary and guarded optimism
Conclusion needs to be optimistic. You need to CLUB TOGETHER hope, risks & caution. In a maximum 8 lines.
QUOTES are good way to end if there were no characters involved in the essay.
But suppose in your introduction, if you had written about a fictitious character, then it's always advisable to end your write-up with a reference to that character. It gives a sense of completeness to the essay.
In current UPSC ESSAY PATTERN, there will not be any need for separate coaching or preparation for essays, and candidates' reading and preparation for General Studies Mains should suffice. But make sure your writing and analytical skills are up to the UPSC expectations; if not, polish it.
KEEP IN MIND –

No knee –jerk reactions
No excessive criticism of government policies and programmes, provide suggestions
In negative essays as – "all politicians are corrupt" – avoid toeing the line of the essay – try to present a balanced approach – even if it goes against the statement of the essay
Avoid being branded either leftist or capitalist
But then again you need enough 'content' good enough to be able to write at least or else you are digging your own grave.
To buy  - IAS STUDY MATERIALS - CLICK HERE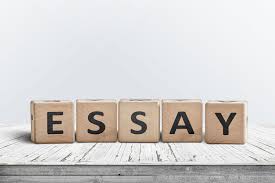 UPSC CIVIL SERVICE ESSAY -
3 MONTH PLAN
Fees - 15000
Elaborate discussion & Essay writing practice